What are the advantages of using PP Honeycomb panels as vehicle liner?
PP honeycomb panel or PP bubble board has a unique three-layer structure, which uses honeycomb structure as the core layer, and takes bubble facing or flat facing as single-sided or double-sided surface. It is a high-strength, durable, lightweight material ideal for use as a vehicle liner.
What are the advantages of using PP honeycomb panels as vehicle liner?
1. Lightweight
The PP honeycomb panel is designed as a hollow structure, which greatly reduces the weight of the material itself. For example, the thickness of PP honeycomb panel suitable for use as a liner is 4mm and 5mm, and its lightest weight can be 1.5 kg per square meter.
We do a comparison, the weight of a solid PP sheet with a thickness of 4mm is 3.64 kg per square meter, which is more than twice the weight of the PP honeycomb panel.
If we choose a slightly thicker board, such as 8mm or 10mm, its minimum weight is 2.5 kg per square meter.
Therefore, we say that using PP honeycomb panels as vehicle liner can reduce the weight of vehicles and save drivers on gasoline costs all year round.
2. High Impact Resistance
Will the hollow structure reduce the strength of the PP honeycomb panel while reducing the weight of the panel? Maybe if it's corrugated.
Our solution is to design the hollow structure as regular hexagonal bubbles that are closely connected to each other, which is why it is called a honeycomb panel. The equilateral triangle is known as the most stable structure. The regular hexagon is composed of six equilateral triangles, which gives the PP honeycomb panel a very stable structure. When subjected to external impact force, PP honeycomb panels are not easily cracked, collapsed or bent.
PP honeycomb panels are waterproof, scratch-resistant, corrosion-resistant and easy to clean.
As a plastic sheet, PP honeycomb panel does not absorb water. If we rinse it with water, there may be some water droplets on its sides. But don't worry, the water droplets will not continue to flow into the interior of the board. By placing the board in a ventilated place, the water droplets on the surface can be dried.
However, if you don't want any water droplets on the sides, we can provide you with PP honeycomb panels with edge sealing.
The matt PP honeycomb panel has better scratch resistance. Using matt PP honeycomb panels as wall linings for trucks can effectively prevent the body from being accidentally scratched when loading and unloading goods.
Even if there is dirt left on the board surface, the ordinary dirt can be wiped off with a damp rag. Stubborn stains can be cleaned with detergent. Using PP honeycomb panels can greatly reduce vehicle maintenance.
4. Surface Type Optional
The PP honeycomb panels we provide can have multiple surface types, including matte surface, rough matte surface, and bubble texture. Please feel free to contact us for detailed surface combinations.

5. Composite Surface Optional
PP honeycomb panels can be compounded with different materials on the surface to suit different uses.
For example, PP honeycomb panels with non-slip thermoplastic materials, making it safer for people to walk on them.
It can also composite non-woven materials, such as 80 g/sm of relatively thin non-woven fabrics, and 150 g/sm or 250 g/sm of non-woven fabrics with a comfortable texture surface. PP honeycomb panels covered with non-woven fabrics are more suitable for use as car trunk mats and van floor mats.
6. Safe, Non-toxic and Formaldehyde-free
Last but not least, PP honeycomb panels with or without non-woven fabrics are safe, non-toxic and formaldehyde-free. PP honeycomb panel is RoHS and REACH compliant, safe material for direct skin contact.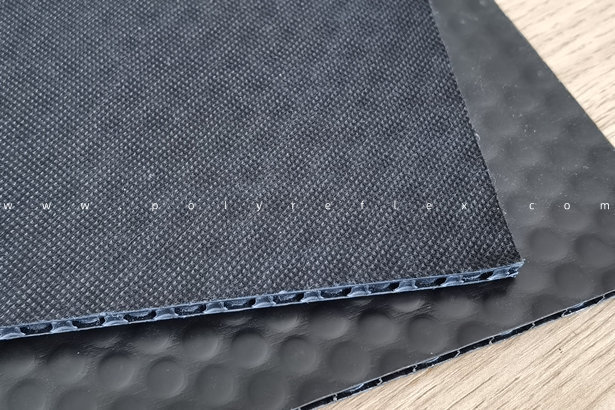 PP Honeycomb Board with
80g/sm
Fabric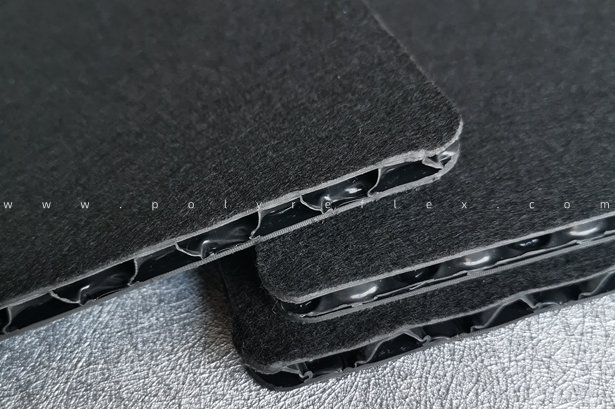 PP Honeycomb Board with
250g/sm
Fabric
Product Case: PP honeycomb panel used as stroller liner
With these many advantages, PP honeycomb panels have become more and more popular with the public. From car mats, van linings, floor protection boards, and support pads, it has even gradually replaced wooden panels as liner panels for strollers.
Compared with traditional wooden materials, PP honeycomb panel is the best solution to reduce the weight of the stroller, while meeting the purpose of waterproof, moisture-proof and termite-proof. Secondly, compared with PP corrugated sheet, its unique honeycomb structure effectively enhances the strength and bearing capacity of the liner panel, making it safer and more durable to use.
Unlike the liners on vehicles, liners used on strollers are generally smaller in size. The PP honeycomb panel has high processability and can be die cut to small size or customized shape to match the use of the stroller.
In addition, according to different needs, different types of PP honeycomb panels can make the stroller have different options.
For example, for a stroller for baby, we recommend using PP honeycomb panels covered with non-woven fabrics and sealing the edges by sewing. If it is a stroller for puppy, it may be more suitable to have a rough matt PP honeycomb panel with rounded edges. The rounded edge is machined by hot-melting the edge of the sheet.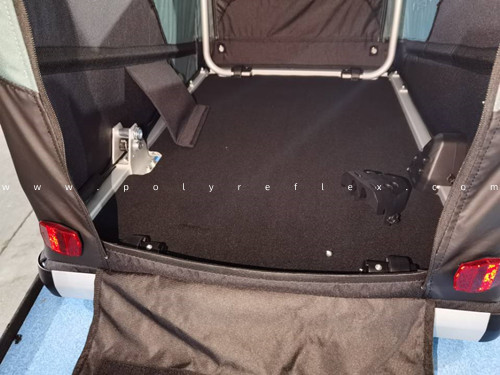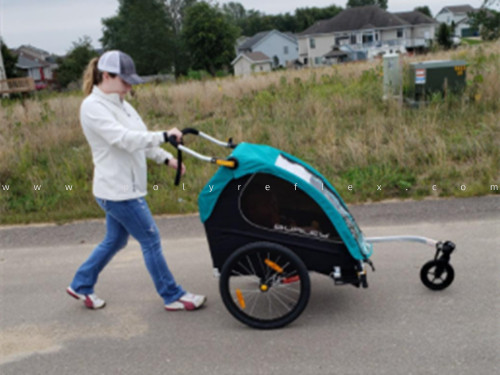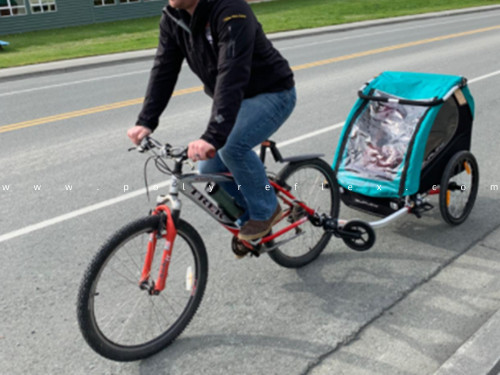 POLYREFLEX HI-TECH
has been a top manufacturer and supplier of polypropylene sheets and other thermoplastic sheets in China since its establishment in 2006. We are committed to the development and manufacture of lightweight polypropylene sheets, including pp corrugated sheet, pp honeycomb board and pp bubble board. If you would like to know more about our products, or to get a quote, please feel free to contact us at
sale@polyreflex.com
or WhatsApp us at
+8613828266785
.